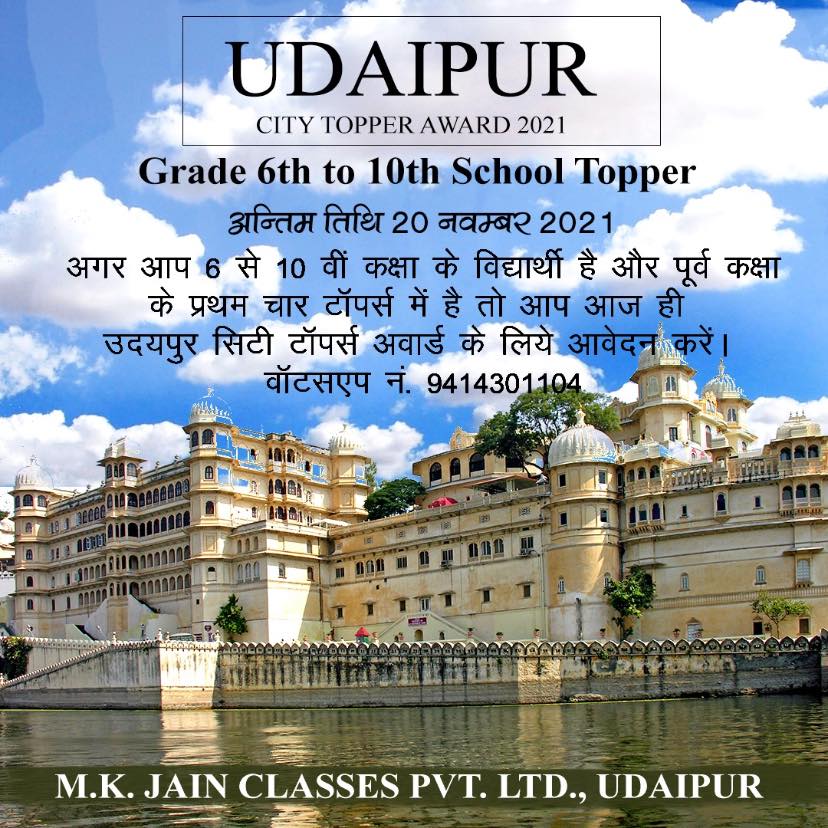 16 Nov

UDAIPUR CITY TOPPERS AWARDS – 2021

UDAIPUR CITY TOPPER AWARDS 2021.

BIGGEST #PLATFORM FOR MOTIVATION. #for grade 6th to 10th

students #Eligibility– above 90% in previous class

#WhatsApp following details

1) student name

2)previous class marksheet image

3) postal address. WhatsApp no- 9414301104

#for off line registration contact.

M. K. Jain classes. Head office hiran magri sector – 6,Udaipur

FOR REGISTRATION:-

Visit Us:-

Contact at:- +91-7742081666, 9414301104, 7742082666, 7737000326

Email:- md_mkjc@yahoo.co.in, mkjainclasses1@gmail.com

Web:- http://www.mkjainclasses.in

Head_Office:-MKJC_Smart_Campus:-Hiran Magri Sector-6,Main Road, Udaipur (Raj.)

MKJC_SIP_INTERNATIONAL_SCHOOLING:- Nav Bharat Sr. Sec. School, Road No: 8, Ashok Nagar, Udaipur.

MKJC_SMART_SIP_SCHOOLING:- Shiksha Niketan Sr. Sec. School, H.M. Sec-6, Udaipur.

For More videos please subscribe our channel Please Follow us via following link:

https://twitter.com/DrMKJain2https://www.facebook.com/MKJainClassesUdaipur/http://www.mkjainclasses.com/index.htmlhttps://instagram.com/mkjainclasses/Please Like || Share || Subscribe #MKJAIN_CLASSES_UDAIPUR#SCHOOLING | #COACHING | #HOSTEL#6th_To_12th#CBSE | #RBSE#SCIENCE & #COMMERCE#NEET | #IIT_JEE | #Foundation

COURSE_OFFERED:-1. MKJC SMART SCHOOLING + Coaching CBSE BOARD GRADE VI TO XII Morning Session.

2. MKJC GENIUS PRE-FOUNDATION COURSECoaching For GRADE VI to X Evening Session.

3. YEARLONG Classroom Contact Program for GRADE XI-XII Board/Competition (NEET / IIT)Evening Session.